Messenger Outlook 2010 Getting Started
Microsoft© Outlook® Messaging Service
The Microsoft Outlook 2010/2007 Outlook Mobile Service (OMS) provides the ability to send and receive Text (SMS) messages from within Microsoft Outlook. Leverage the power of your Microsoft Outlook or Exchange Address Books out-of-the box.
Our Outlook Mobile service seamlessly integrates with Microsoft Outlook, and through integration via Messenger, provides an online console and management capability second-to-none.
What you need
Microsoft Outlook 2007 or 2010 installed.
A subscription to Messenger.
Available funds or bundle messages in your Messenger Account.
Signing Up to Messenger
Before you start using Messenger you need to create a user. This can be created for free in seconds. Before you start you will need:
a valid email address
a valid mobile number
The email address is used to validate your new user login and can also be used to send SMS via email once you are in the system. The phone number is used to ensure we have a phone number to ensure SMS messages can be sent if you are not online.
Once you have these at hand visit https://www.bulletinmessenger.net to signup.
As a bonus we will even give you a few free messages so you can see how it all works before you part with some of your hard earned cash.
You will receive an email with useful information so read it so you can get the most out of Messenger.
There will be some things you can't do before you make a payment such as sending heaps of messages but once you make a payment we will then remove any limits. It's not much but we find it helps cut down on spam, and that is something we are very keen on.
If you want to get rid of any restrictions you notice before you make a payment get in touch but why not make a payment? You can always ask for a refund if we don't meet your messaging needs.
This User you have just created has Administrator rights. You can now create up to 5 other Users or contact us if your company has a larger requirement.
Making your first payment
To make your first payment you will need:
a valid User login with Bulletin that you created earlier
a valid mobile phone number
a PayPal account or a valid credit card
Once you have logged into Messenger you can top up your account through the account balance display underneath your avatar, or via Bulletin Dashboard. The Bulletin Dashboard is the online access and payments portal for Bulletin's range of services.
You can top up your Dashboard balance at any time using Paypal or simply by using our secure online credit card payments. If you are a corporate client that has large volume requirements and therefore needs to establish an invoice relationship then please contact Sales.
Activate Text Messaging in MS Outlook 2007 or 2010
To configure Outlook Mobile Service within Microsoft Outlook either use the Quick Activation OMS link or configure manually.
Quick Activation
Start Quick Activation by clicking this link
You will be asked if you want to add a service to Microsoft Outlook. Click "Yes".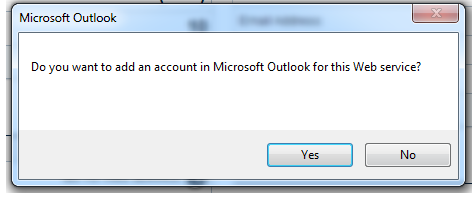 This will open the Text Message "Account Settings" window in your Microsoft Outlook.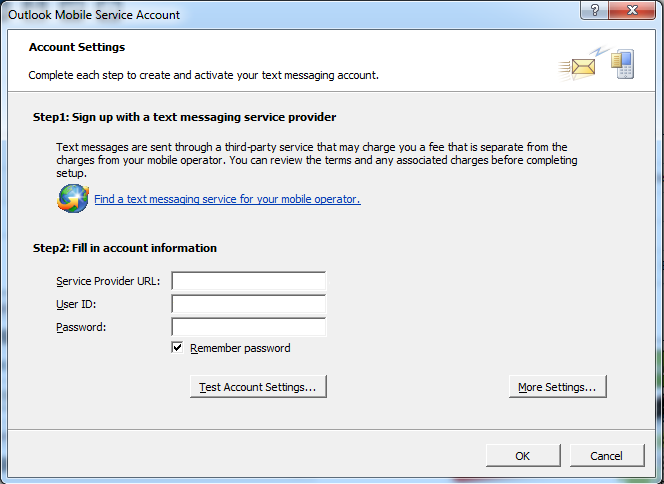 Service Provider URL should be already populated, but if it isn't, enter https://www.bulletinmessenger.net/services/omsservice
Input your Messenger Logon User ID (user name) and password
Make sure "Remember Password" is ticked.
Test Account Settings to ensure that you have entered them correctly.
Save your settings by clicking "OK".
Manual Setup
To configure manually from within Microsoft Outlook, follow these instructions:
On the Microsoft Outlook menu bar, select the "File" tab.
Click on "Account Settings"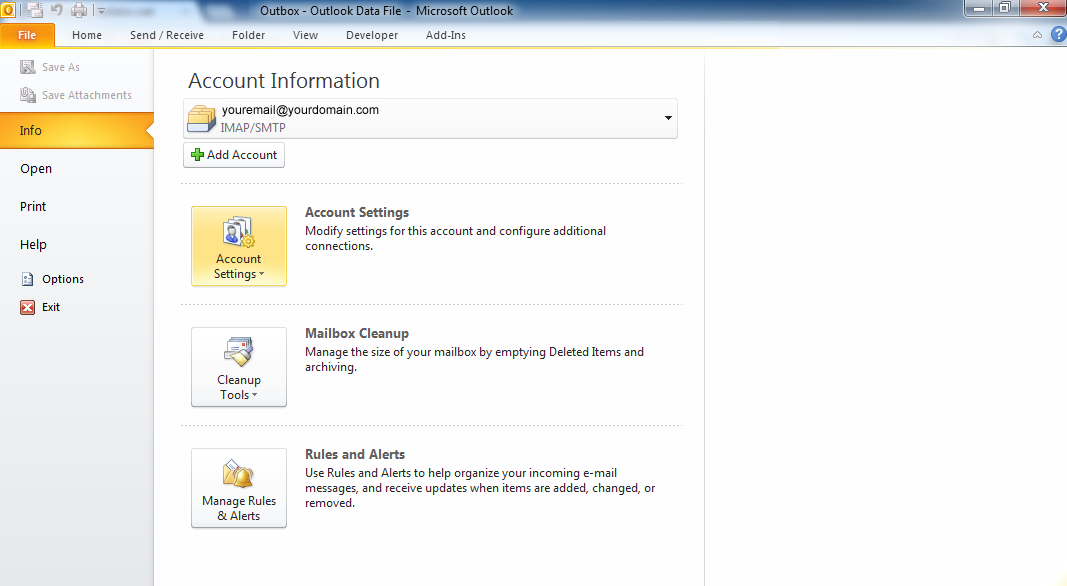 Click on "New" (in the "Account Settings"/ "Email Accounts" window).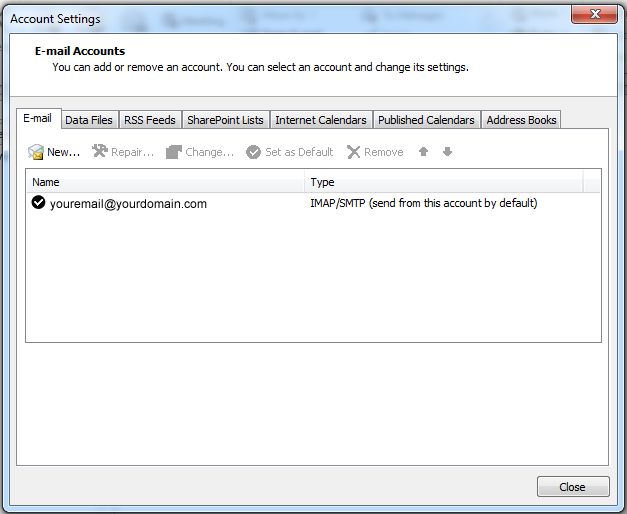 Click on the "Text Messaging" radio button.
Click "Next".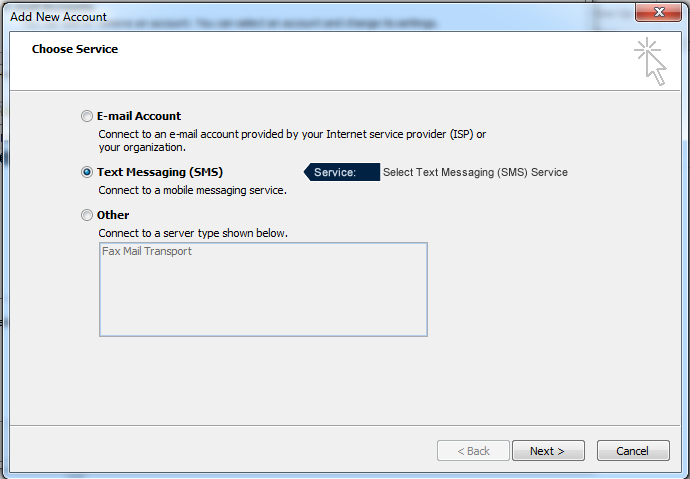 Type or copy this 'URL' link into the Web Service Address: https://www.bulletinmessenger.net/services/omsservice
Input your Messenger Logon User ID (user name) and password
Make sure "Remember Password" is selected.
Test Account Settings to ensure that you have entered them correctly.
Save your settings by clicking "OK".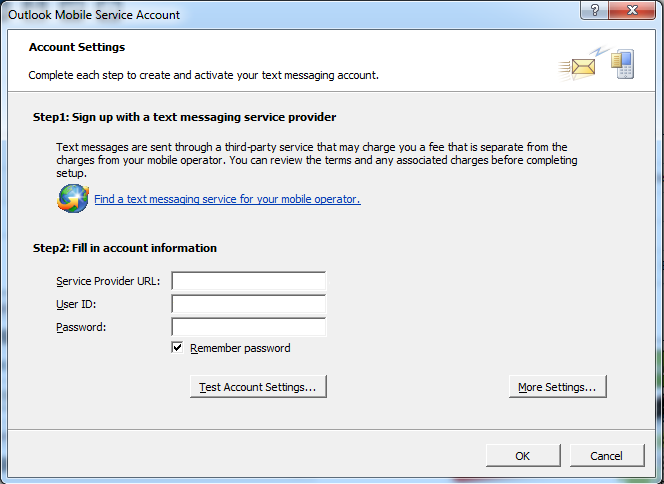 Send a Text Message
To send a message via Outlook:
On the main Outlook menu (under the Home tab), click on the "New Items" icon.
Click on "Text Message (SMS)".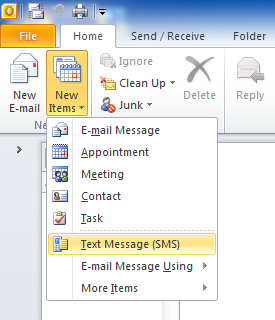 If "Text Message" has not appeared on this menu list, close down Outlook fully by clicking "File" and "Exit". In some cases the computer may need to be re-started before "Text Message" appears.
In the "To" field, input the recipient's mobile phone number in international format. eg: 18588123169 (for a USA number) & 442079692712 (for a UK number). Do NOT include a + sign before the number.
Or select recipients from your Outlook Address Book. You can send up to 10 recipients per message.
After you have typed your message, Click Send.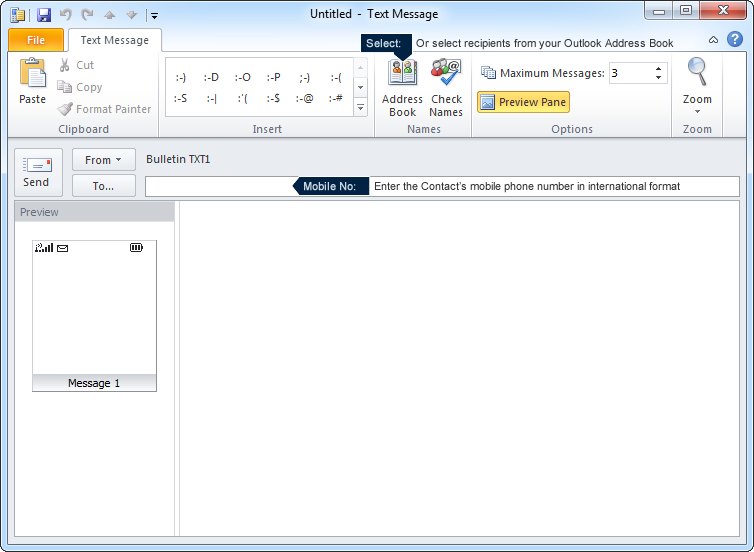 Signatures
Automatically identify that the text message is from you at the start of every message.
Why is this smart to do?
The recipients of text messages from computers will see those messages arrive from unfamiliar phone numbers.
This is because computers are not assigned individual phone numbers.
But the automatic "signature" feature enables you to be sure all your messages start by identifying you as the sender.
On the main Outlook menu click the File tab.
Select "Options" (a new window will appear).
Click on the "Mail" tab.
Click on the "Signatures" button.
On the E-mail Signature tab create the signature id for your text messages
Click on the "New" tab, and in the pop-up box that appears create a name for your text message signature (e.g. "TXT ID") and click "OK" to close the pop-up.
In the box underneath "Edit signature", type the signature you wish to appear (e.g. "From:" and your email address or your name and "via pc").
Click "Save"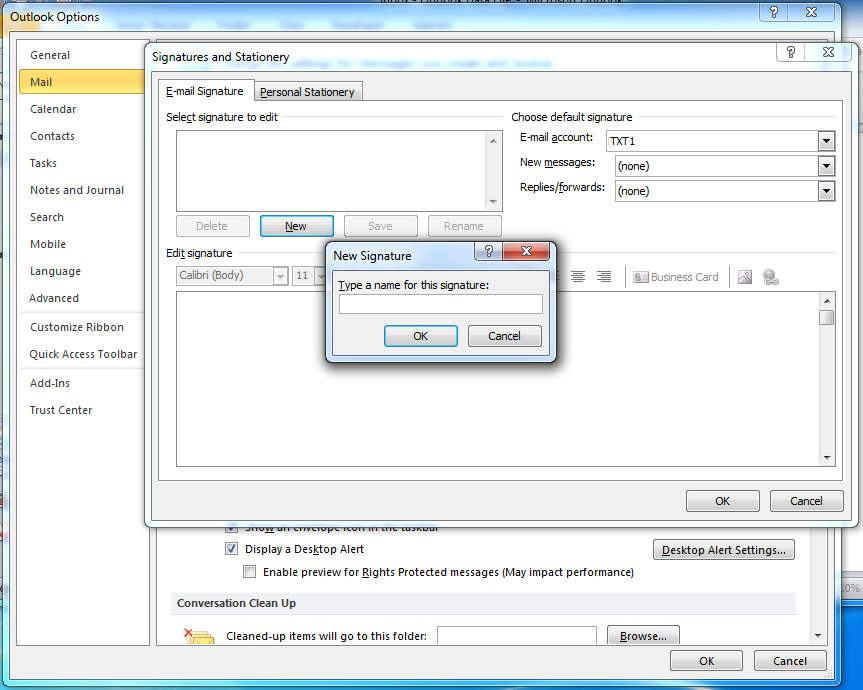 In the box next to "E-mail account", click the arrow tab and you will then see your Messenger Text messaging /Outlook Mobile Service account. Click to select it.
In the box next to "New Messages", click the arrow tab and you will then see the name you gave to your text message signature option. Click to select it.
Click "OK" to save and activate your text message signature selection.
When you open your text message window it will now automatically have your identifier: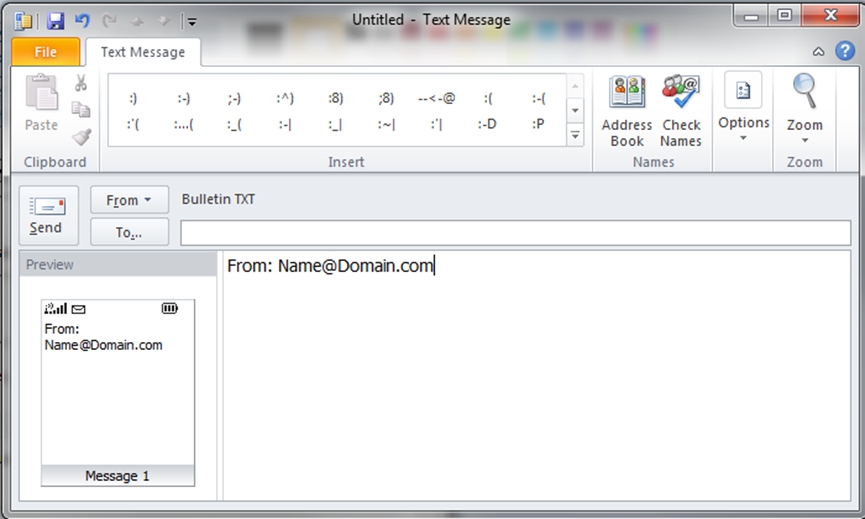 Message Length
Set and preview the maximum number of text messages you want to send each time
Individual text messages have a maximum of 160 characters. You can send longer messages, but they will be sent as up to three separate text messages:
You can see how much of your message fits into a single Text Message by clicking on "Preview Pane" in the menu bar.
The "Preview" box shows how much of your message will be included in each Text Message that is sent.
You can set your maximum Text Messages by clicking on "Maximum Messages".
Non-Latin Alphabets
If your Outlook client is set to use a UTF-16 language (Chinese, Cyrillic etc), your character payload decreases to 70 characters in the first part, and 134 characters in the second part.
This means if you send a message that is 100 characters in a UTF-16 language, you will be charged for 2 messages.
Forward your emails as text messages
You can forward on an email to someone else as a text message very easily:
Open the Email you wish to forward and click on the small arrow below the 'Forward' icon.
Then click on Forward as a Text Message.
Your text message window will open with the contents of the email already included. Input or select the recipients mobile phone numbers and click send.
Schedule text messages to be sent later
You can schedule to send your text messages at a set time:
Click the box to the left of 'Schedule Send' on the menu bar.
You will see a 'Scheduling' bar appear underneath the 'To' box. Select the date and time you want the message to be delivered.
Replies
Replies to your Text Messages arrive in your Outlook Email Inbox (the Email address you selected in your Messenger account). Retrieve, View and File your Text Messages along with your Emails.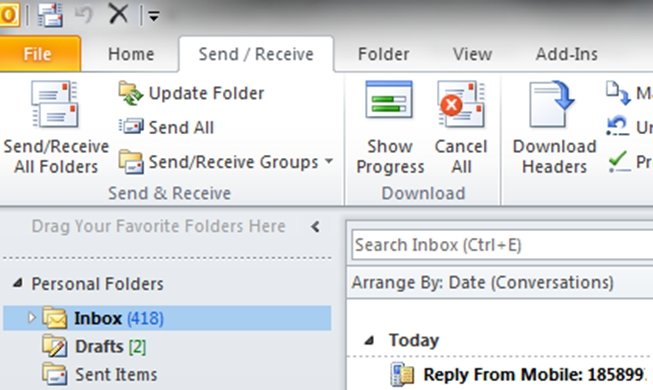 Email2SMS
If you decide to move away from Outlook 2010/2007 and are no longer able to make use of OMS integration you might like to use our Email2SMS service to send SMS messages using any Email client.
The steps to send SMS via email are the same as sending a normal email:
Open your Email Client (Outlook, Gmail, Thunderbird, Hotmail etc).
Enter the Recipient Addresses, eg: 642715414141@bulletinmessenger.net, or bobs-alias@bulletinmessenger.net in the space provided.
Enter the Subject of the Email (or leave blank).
Write your Message.
Send the Email.