Other Ways To Send
Microsoft© Outlook® Mobile Service (2007 or 2010)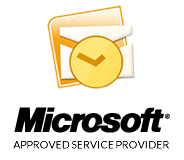 Bulletin is an approved Microsoft© Service Provider and Messenger for Microsoft© Outlook® 2007 & 2010 is the premier text message service to enable messages to be sent from Microsoft Outlook 2007 & 2010 to mobile phones around t he world and for replies to be received back in to Microsoft Outlook's email Inbox.
Its seamless integration with the Messenger platform, provides powerful features such as forward to mobile - not available with comparable services.
See the Microsoft© Outlook® Messaging Service Documentation for detailed instructions.
If you do not have the correct version of Microsoft Outlook that supports the Outlook Mobile Service (OMS), or use a different email client then you can still use Messenger with the Email2SMS functionality (see the user guide for more information).
Microsoft© SharePoint 2010
As an approved Microsoft© Service Provider, Messenger works not only in Microsoft© Outlook® but allows SharePoint 2010 to become TXT capable.
What you need to get started:
A valid Messenger login and password
Microsoft© SharePoint 2010
Access to the internet (some companies firewalls can restrict access that will stop this working, talk to your IT department if this is the case)
The web service address you need to add to Microsoft© Outlook® is https://www.bulletinmessenger.net/services/omsservice